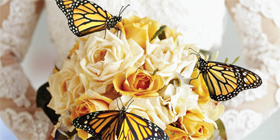 Please click the image above to shop on our new and improved
butterfly release website! This new site is fully secure and easy to
navigate with all the same great information you would find here.
Visit butterflyrelease.biz to view or order our butterfly products.

---

SALE: Low-Cost Painted Lady Butterflies As Low As $29 Per Dozen!

NEW! Introducing the ClearView Butterfly Zoo - a completely new way to grow live butterflies ... no more caterpillars in a cup!

Giant & Gorgeous Monarch Butterflies As Low As $99 per dozen!

When quality counts, there is no butterfly like the Monarch. Wedding butterflies create lifetime memories. The butterfly release is perfect for funerals, memorials, hospices, corporate events, baptisms, christenings, quince-añeras, and the list goes on ... Click here for more info.
Witness the incredible butterfly life cycle by using our live butterfly growing kits and more.

Made of plantable seed paper, these beautiful plantable favors are the new thing now!

Butterfly Release Pictures and Videos

View the many pictures and videos sent in by our butterfly release customers.

Please click on the image to the left to find out how an orange monarch butterfly will help the earth stay green.
---
Welcome to Swallowtail Farms, Inc., - one of the largest producers of Monarch butterflies for ceremonial releases and educational uses in the U.S.A. We also produce a large variety of handmade plantable favors for weddings, bridal showers, baby showers, and all sorts of special events.

Butterfly Releases - Live butterflies for funerals, memorials, special events including your butterfly wedding, birthday parties, baby showers, and bridal showers. Enhance memories by releasing live butterflies at weddings. The butterfly release at weddings can capture the memories of your special day only the way a butterfly can! And don't forget about butterfly releases for funerals and memorials.
Over a million Live Monarch Butterflies have been produced by Swallowtail Farms over the last two decades. These butterflies have been released at over 20,000 weddings, memorials, funerals, quinceaneras, bat mitzvahs, and special events. Additionally many have been observed in classrooms around the country.
For Weddings ... We have a wide range of butterfly release accessories, wedding favors and wedding butterflies for butterfly theme weddings or special events. When it comes to releasing butterflies at weddings, Swallowtail Farms is your source!
Not Only Weddings ... The butterfly release can be a part of all sorts of special events including funerals, memorial services, quinceanera, birthday parties, mis quince anos, fund raisers for non profit organizations, or corporate events. Butterfly releases can be a special part of any type of special occasion.

For The Classroom ... We also have an assortment of unique educational products to learn and enjoy the butterfly lifecycle. Please be sure to see the monarch butterfly lifecycle slide show in our educational section! We have butterfly kits, monarch butterfly kits, and caterpillar to butterfly growing kits.
---
According to an American Indian Legend,
if anyone desires a wish to come true
they must first capture a butterfly
and whisper that wish to it.

Since a butterfly can make no sound,
the butterfly can not reveal
the wish to anyone but the
Great Spirit who hears and sees all.

In gratitude for giving the beautiful butterfly its freedom,
the Great Spirit always grants the wish.

So, according to legend, by making a wish
and giving the butterfly its freedom,
the wish will be taken to the heavens and be granted
Funeral Butterflies ::Wedding Butterflies :: Butterfly Wedding Favors :: Live Butterfly Growing Kits
Educational Products :: Cheap Butterflies - Painted Lady Butterflies For Release :: Sitemap
The Live Butterfly Release for Weddings - The beauty and magic of a live butterfly release at weddings or special events is an experience you will never forget. Butterfly releases for funerals are also very popular. Having a wedding butterfly release will bring memories of joy and enchantment of that most important day. Wedding butterflies create happy memories! Our live monarch butterflies are also found at events such as: quinceanera, Bat Mitzvah, birthday party, sweet sixteen, quinceanera, memorial, funeral, hospice fund raiser, mis quince anos, corporate event, Easter service, and much more ...
Swallowtail Farms now also offers painted lady butterflies! Painted lady butterflies are a great alternative for the budget-minded shopper looking for a low priced butterflies for release. Although not as spectacular as the monarch, the painted lady still puts on a great show but for much less the cost. Please be sure to visit our website at: cheap painted lady butterflies for release.