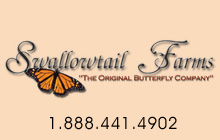 ---
It's easy nowadays to have a fancy-looking website with beautiful images and a modern look. Admittedly, we are old-fashioned and are more interested in using this website to give you thorough information to make the best choice. So, we hope you look beyond and behind appearances to find that we are an experienced, well-established and respected commercial butterfly farm and breeding facility. Swallowtail Farms is the "Original Butterfly Company" and has been in business for over 2 decades. We have produced over a million beautiful monarch and painted lady butterflies since 1993.
---
Our experience, high standards and special methods including our Flight Proven™ Technology result in your butterflies:
Arriving as promised
Butterflies are vibrant and lively
Flying in stunning beauty
Unfortunately, not all butterfly breeders are on the up-and-up, hence our warning: Buyers Beware! We highly recommend that you ask the following questions as you shop around for a live butterfly supplier:
Do you have an A+ rating from the Better Business Bureau? The BBB has given us an A+ rating based upon their independent review of our customer service and product quality. Believe it or not, most butterfly businesses have less than an A rating and there are several with an F rating. So, when shopping around, be sure to get a 3rd party opinion of the quality of the company's products and customer service. To look up a company, please click on the link to go to the BBB website.
What is your guarantee?

We guarantee the butterflies to be alive and healthy or your money back. We also offer a special weather cancellation waiver for up to the value of 8 dozen butterflies. Additionally, if you are unable to use the butterflies at your event due to a late delivery, we will provide a guarantee of up to 50% of the cost of the butterflies including shipping. See HERE for further details of our guarantee and cancellation policy.
Does each butterfly come in a release box? A paper origami envelope has a course texture and will likely rub the scales off of the wings of the butterfly. Additionally, they often pop open during shipping which allows the butterflies to escape. Our standard release boxes are stylish and elegant, yet designed to keep the wings of the butterfly safe. They are rigid enough to protect the butterfly from handling so that you won't have to worry about a squished or escaped butterfly. For mass releases, butterflies are shipped in special glassine transfer envelopes which are designed for the protection of the butterfly. (Glassine envelopes work well for shipping & transferring, but are not appropriate for release.)

We are the ONLY company that provides individual boxes for Painted Lady butterflies in addition to Monarch butterflies. Many companies pack their butterflies in thin paper origami envelopes. Paper origami envelopes often come apart in shipping and are not substantial enough to protect the butterfly when handling prior to the release. Our boxes are made of thick card stock and are held together by a locking tab which ensures that the butterfly will remain safe and healthy from the moment they leave the farm until the time of release.
How long have you been in business and how much experience do you have with butterflies?

Swallowtail Farms, Inc. is an award winning company that has been around for over two decades and will continue to be there when you need us. Our success as a business depends on your satisfaction as a customer. We are a reliable and professional firm with several production centers across the country. We have developed mulitiple cutting-edge commercial breeding techniques, including our Flight Proven™ Technology, to ensure that you receive the highest quality butterflies available. Our rearing methods and resulting butterflies have also been certified by a well-respected insect pathologist to be of high standards and disease free. When you place an order with us for live butterflies, our many years of experience and dedication to high standards are your insurance for receiving lively, healthy, and beautiful monarch butterflies for release at your special event.
******
Give the gift of a butterfly release to your loved one!
Experience the joy of having a butterfly release at your wedding.
Your guests will be amazed when they release a live butterfly at your wedding.
Releasing live butterflies at weddings or special events is the ultimate party favor!